London Fashion Week: Mata Durikovic Proves That Sustainability in Fashion Can Be Attractive
Slovak designer Mata Durikovic presented her Pink Matrix bioplastic collection at the London Fashion Week. She showed that even luxury clothing aims to be sustainable and making it edible can make sustainability more attractive.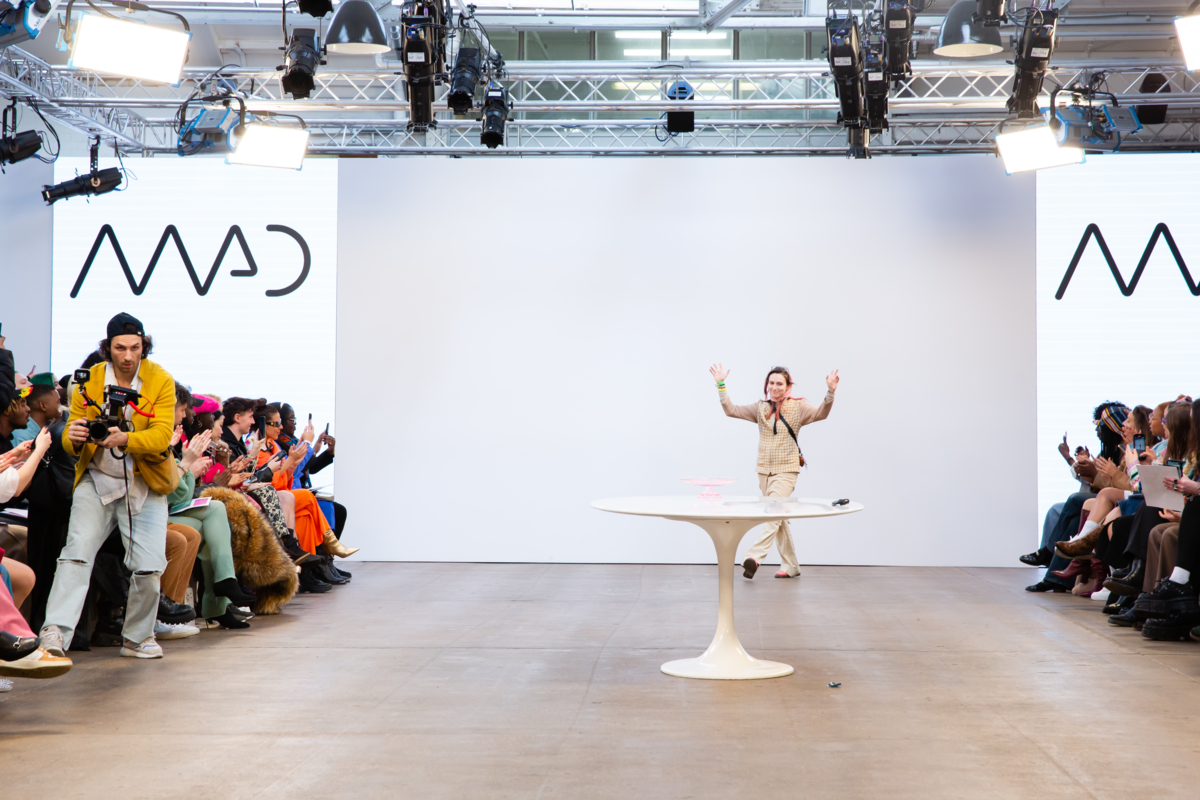 Under her brand MADbyMAD, Mata creates biodegradable, waste-free compostable, and edible clothing. She is the laureate of the Best Fashion Talent 2022 award by the Slovak Fashion Council and Fashion LIVE! Currently, Mata Durikovic lives and works in Paris, where she received a prestigious internship at the Chanel Fashion House.
Mata presented her Pink Matrix collection to the audience in the trending London district of Shoreditch at the Fashion Scout event as part of London Fashion Week. The art district, known for its street art and vibrant young atmosphere, provided the perfect backdrop for a fantastic performance, where the guests in the audience could taste pieces of the "fabric" cut from the model's dress.
Major part of the design uses bioplastic material producible at home. "My work is based on the "Material driven design" technique, which is based on inspiration from the material and experimenting with it later. I further develop the shape and function of the design. Now, I mostly deal with bioplastic material, which I managed to transform into a leather-like consistency. It can also be used as an avant-garde substitute for embroidery." This bioplastic material can be embroidered or printed using a 3D UV printer, but even be eaten.
The pieces handcrafted to the last detail in an haute couture style with a poetic wild punk atmosphere, created interest and excitement in London. Mata uses the clothes to revive her childhood world and embody characters from different galaxies, where each outfit represents a specific character from that galaxy. It consists of three galaxies: Crystal galaxy, Flower crystal galaxy, and Strawberry crystal galaxy.
Memories from Mata's childhood also emerged during the show as a soft contrasting pastel story with neon accents. "Color has definitely been important in my personal development as a designer. It has shaped what inspires me and what my personal preferences are."
Upcycled wool and fabric scraps crocheted into organic new-age gowns complemented the bioplastic outfits. With a closer look, the attention to detail and intricate processing of every aspect is clearly visible.
Mata also joined forces with the jeweler Martina Kocianova, whose jewels wonderfully complemented the Pink Matrix collection. Working primarily with silver and stones, the synthetic rubies, topazes, opals, and baroque pearls beautifully complemented the looks.
The collection produced with a minimal impact on the environment has thus changed from a simple artistic expression to a mission to show that luxury can also be sustainable. There is no doubt that the extravaganza, which seemed to be from another galaxy, lifted the spirits of everyone present. Viewers from the ranks of the media and people from the fashion industry evaluated the show as something new and fresh they had not seen before.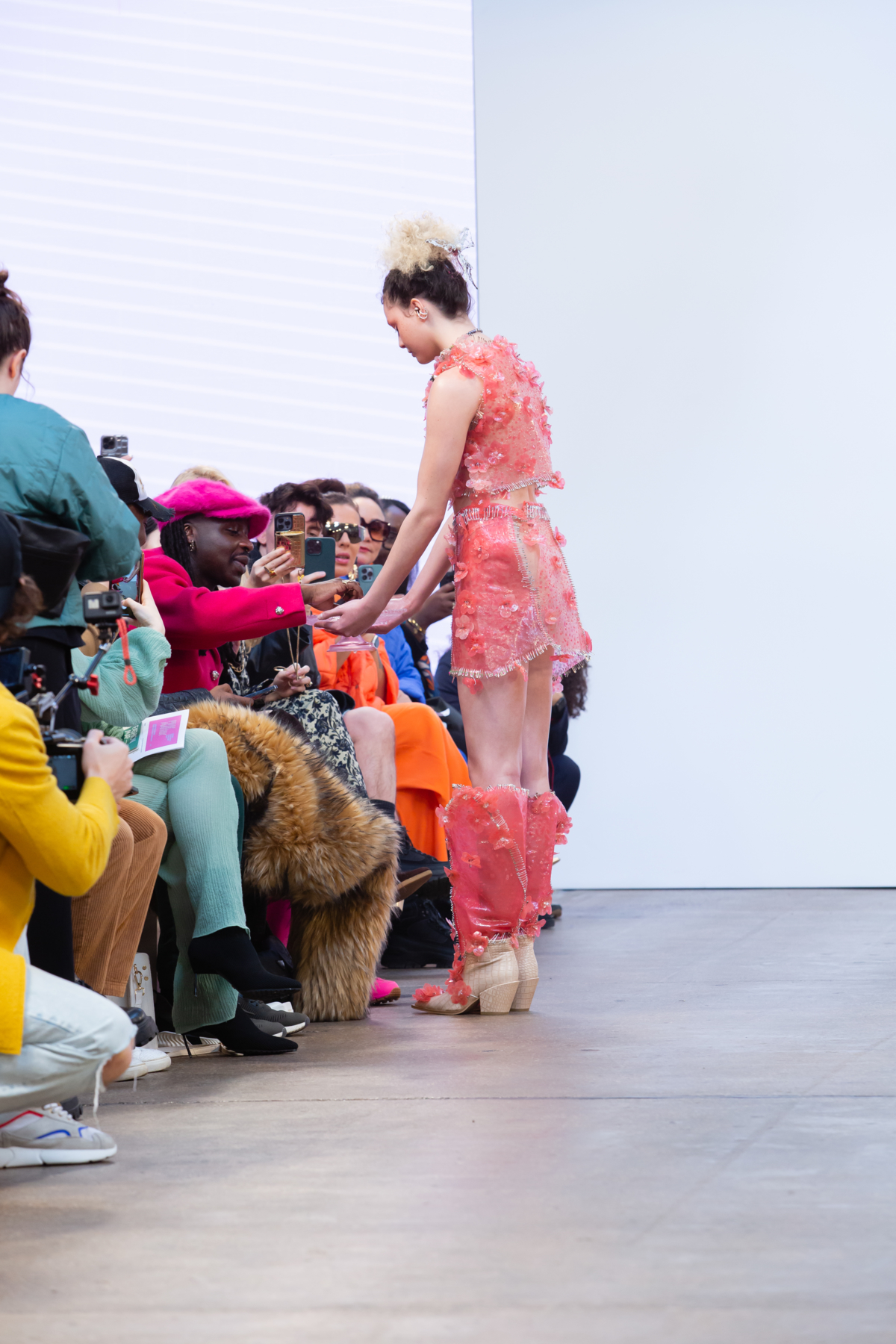 "I've had a dream since school to present my work at the London Fashion Week, but I couldn't find a way. The first opportunity came when I started to create, and thanks to the support of the Slovak Fashion Council, it has become a reality. But it does not mean that I have reached my desired goal. On the contrary, I see it as the beginning of the journey," Mata Durikovic evaluates her participation in the prestigious event.
While Mata currently focuses on building her image, she will continue to look for ways to make her intricate pieces more wearable. She is also finalizing her first product, soon-to-be-launched on her e-shop. A London's Saint Martins' graduate wants her customers to celebrate individuality and not be afraid to stand out.
The presentation in London is the culmination of intensive preparations and systematic work of the non-profit organization Slovak Fashion Council, under the leadership of Zuzana Bobikova: "Professional fashion design by Mata Durikovic brought emotions, passion and love for beauty to London, but also showed a demand for endurance, timelessness and the pace it requires. At our projects in London, we regularly see the meaningfulness of our work as it shows young designers the complexity and full spectrum of the fashion ecosystem. Participation in these events further allows the development of the designers' potential and bring them significant opportunities for further application in their career.
Text: Andrea Gregorová / Petra Konček
Fotos: Jarka Črepová